Meet Stephen Fante, Brand Ambassador and ASCOT Award Winner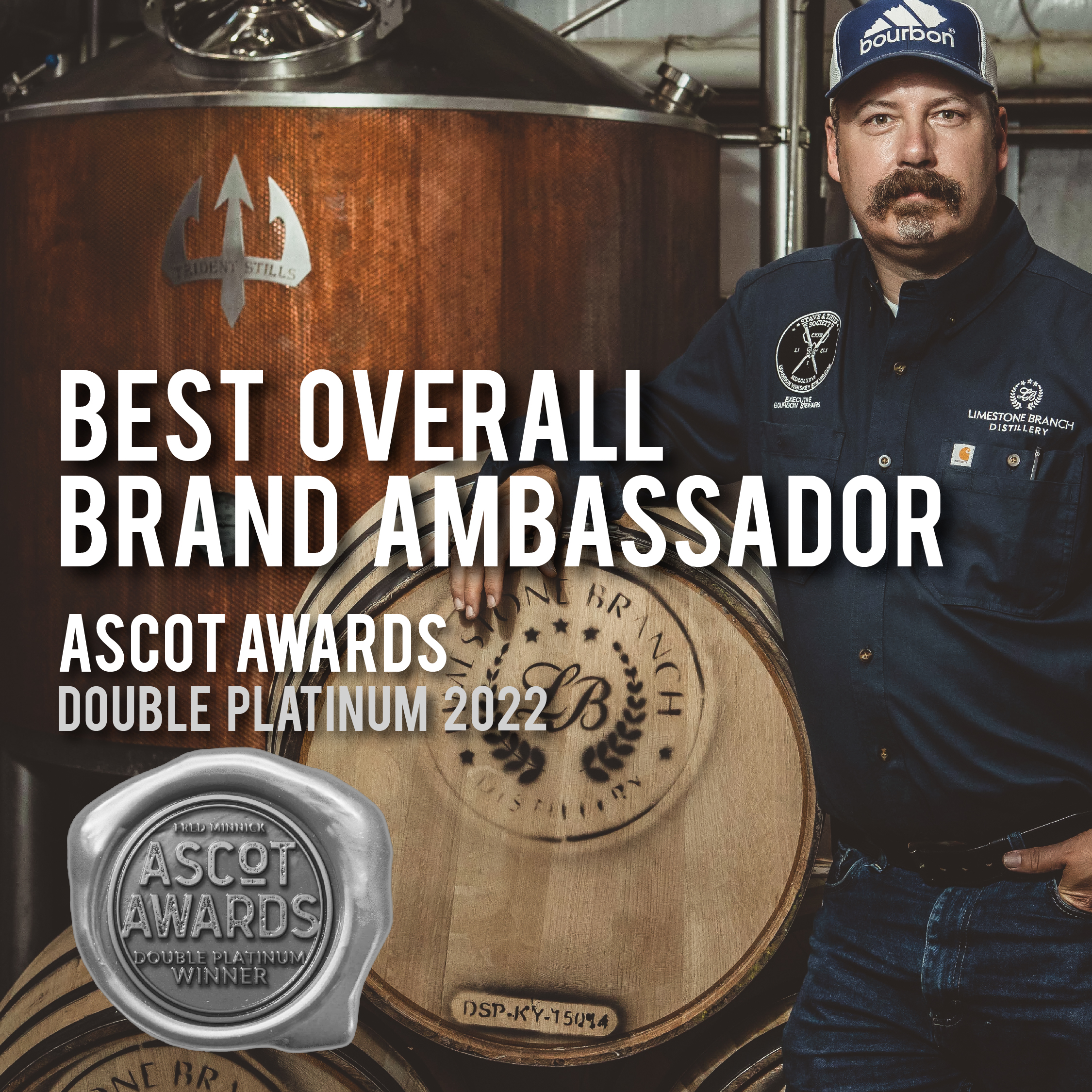 Spend any time along the bars and bourbon trails of Kentucky, and it's likely you'll hear the name, Stephen Fante. He's a larger-than-life personality that loves the Limestone Branch Distillery (and its spirits) and he doesn't hesitate to tell anyone and everyone all about it. Stephen is our Brand Ambassador and recently his hard work and dedication to spirits earned him the ASCOT award for Best Brand Ambassador!
We couldn't be prouder of Stephen, so we wanted to sit down and talk to him, to showcase who he is, how he got to such a prestigious award, and how he feels about having so many raving fans.
Interview with Stephen Fante, ASCOT Award-Winning Brand Ambassador
Question: Can you tell us a bit about your background and how you got started with Limestone Branch Distillery?
Stephen: I started my career in Coffee after a 4-year stint in building a Lawn Care startup. I started the coffee venture as a Salesman with a route in the West End of Louisville. I developed a loyalty in my clients for taking care of them like family. I was promoted through the ranks and continued to climb from there. I was awarded the Sales Person of the Year award in 2002, 2004, 2005, and 2006.
In 2004, I became Gold Cup Certified, which made me one of the nation's certified trainers by the Specialty Coffee Association of America in the Golden Cup Standard. I also served on several boards, including The Kentucky Restaurant Association and Country Club Management Association Midwest Chapter.
Fast forward a few years and I eventually joined Consumers Choice Coffee as the Branch Operations Manager for Indianapolis and Louisville, where I built customer loyalty in person and through my route sales team.
When that chapter of my career came to an end, I reached out to my friend Stephen Beam (for the 3rd time!) for a job. The rest was history!
Q: What exactly is a Brand Ambassador? What does your day-to-day look like?
Stephen: At Limestone Branch Distillery, I assumed the role of Brand Ambassador along with some other roles. To me, this is the most important of the roles because it requires me to meet with Sales Reps all throughout the county and teams to teach them about our history and our product line and endear them to our brands. The goal is always to have your product placed on shelves a second time and then remain there. This requires these teams to remember you! I try to be memorable in every presentation and in every store tasting.
Q: Obviously, you take your role very seriously–what sparked your desire and passion for this position or Limestone Branch Distillery?
Stephen: My years of delivering coffee to iconic distilleries and suppliers throughout Kentucky allowed me to meet many people. But what landed me at Limestone was Stephen Beam and his enthusiastic love for his family lineage and his passion to be the 7th generation Distiller in his family.
Q: Are there any insider tips and tricks you could share with us that make you such a great Brand Ambassador?
Stephen: Yes! Learn your history, check your history, recheck your history, and don't be too proud to be corrected! These lessons have done me well and I owe a big thanks to Stephen Beam! As a Brand Ambassador, you must know that details matter. No question should go unanswered and if you don't have the answer, get it from a distiller. Also, always aim to rock your audience's world!
Q: What advice would you give anyone interested in becoming a brand ambassador?
Stephen: Get your running shoes on and go for it! Dedicate yourself to the mission, and eventually, all of it will come back to you! It's going to take a while, but in that while, you are going to have some of the best times of your life. Don't forget to enjoy the ride!
Q: The all-important question–where will you put your award?
Stephen: I plan on putting my award at the Distillery for a while and eventually it can be found in my hallway (which I call an office) with all of the others in my career.
Q: Is there anything else you want to share about winning the award or your role as Brand Ambassador for Limestone Branch Distillery?
Stephen: Yes, I would like to say how thankful I am to Stephen and his family. For allowing me to do it my way and for stretching me and instilling confidence that I would be successful in any mission they gave me. I am the luckiest man on the planet to represent the coolest brand in American History; Yellowstone Kentucky Straight Bourbon Whiskey!
I'll also give a historical shout-out to Sales Person Charles Townsend for bringing the best idea ever to Bernard Dant Coldspring Distillery in 1872. Bernard named Yellowstone Bourbon after this brand-new park out west that was getting worldwide attention as America's first National Park. He knew that a bourbon named after the park is sure to be a huge success and I work every day to prove him right!
***
Congratulations and thank you to Stephen Fante. We are honored to share your story!
Meet Stephen and learn more about Yellowstone Bourbon or Limestone Branch Distillery by visiting us at the distillery. We have amazing tours daily and delicious cocktails at Minor Case's Lounge.
More Articles of Interest
News
The glitz, the glam, and the dram, who doesn't love a good whiskey awards season? Here's a roundup of the Limestone Branch Distillery spirits that won awards (so far) in 2023.
News
NPCA names partner recipient of annual award in honor of commitment to national park protection